#58. Since Series 1928, the $100 note has featured an engraving of Independence Hall in Philadelphia.


What You Need to Know About Getting a Phone
Learn what options you have to get your own cell phone.
Having a cell phone in high school can be important for several reasons: communicating with friends with some level of privacy, being able to update your parents on where you are, or even doing homework. A cell phone is vital these days. But what if your parents tell you that you need to pay for your own phone? Here are a few options to get a cell phone on your own.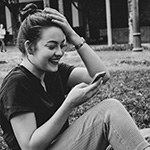 No contract phones. Most carriers offer no-contract plans and some specialize in them. That means you pay upfront. Many plans offer unlimited talk and text and generous data. No contract plans often allow you to fit your plan to your budget. And because it essentially restarts every month, if you need to change something you can. Want more texts and fewer voice minutes? Change your plan next month. Know you're going to be using more data? Simply add more to the plan. The best part about these plans is there is usually no credit check or income verification. You buy the phone or provide your own and you get set up on their network. If you fail to pay, you just lose service.
The benefits are you have instant access with no need for credit and little upfront capital. You pay, you can use your phone. The downside is you probably won't have access to the newest phones. On some plans it's an option, but they are expensive since you have to buy the phone outright at the start.
Security deposit. Some carriers will allow you to open a plan with a security deposit—you pay them a sum upfront where if you fall through on your contract, the amount will cover it. They may run a credit check to determine how much of a deposit they are going to require. Little to no credit history will require a high security deposit.
The benefits here are you can get a newer phone to start and you'll slowly build credit. The downside is you have to have a good amount of upfront capital.
Family plan. If someone in your family already has a phone plan, you may be able to convert that to a family plan you can join. This would use their existing plan as proof the bill will get paid and extend a line to you for your phone. There are a lot of options out there for family plans, so you can find a plan that works for everyone involved.
You can save a lot of money this way. Family plans cost about the same as a no-contract plan, but if you negotiate with your family, you may be able to make smaller payments. The downside is you need someone willing to let you join their phone plan. But you can probably convince them because they'll save some money.
The choices are out there if you need a phone and have limited resources to back you up. None of these options is better than the others. It's all about which one works for you. Ask people you trust, or maybe bounce a few ideas off your credit union's financial advisor. They can help you run a few numbers to see what option is going to help you the most. Sometimes the numbers that look the smallest end up costing more in the long run.